JJJLONGHAIR Photo Page
Calendar
Friday, August 6, 2010
---
New Goal is.....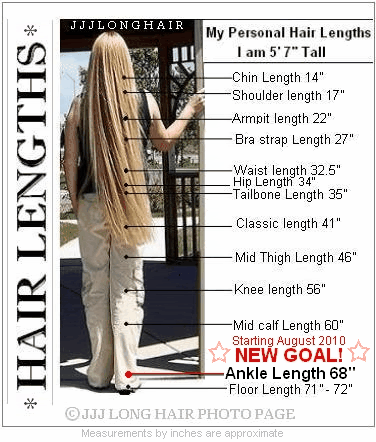 New Hair Goal! Going for Ankles / 68"!
Why?
Because I have been thinking about this for a while and decided to go for it!
Because I would like to see if I can grow it to this amazing length once in my life!
Because I am already so close, why not go for it!
Because nothing is written in stone and goals change!
Because long hair is not hard for me to handle-a little longer won't matter!
Because ankle length blonde hair is rare!
Because it is a challenge.

Because I have the support of my wonderful husband!
Because I have the support from friends and fans to grow longer!
Because I want to see if my hair will even grow 8 more inches!
Because if I don't like it, it takes 5 minutes to cut it back to 60" knees,classic or other!
Because I want to do it for me!
One day I will cut it back to a shorter length and I will get the thick blunt hemline again. It will always be there hiding and waiting for me. For now I will embrace the longer hair and respect each inch I gain.
I was never a fan of fairytale ends, but for now I am accepting the look of them as I grow to longer lengths. I will be very careful with the longer length and try to keep it as healthy as possible!

I will still trim once in a while, but only tiny amounts like 1/4 to 1/2 inch as needed.
This is my goal for now and for the next 18 months.
I want to thank a few people or who have supported and inspired me in my long hair journey. You all helped so much, you have no idea!
Ruffneck
Helmut
Lady Grace
Shelly Rapunzel
Bobbo

Leona
Humble Knight
Indi500fan
Bun lv
Cinnamon Hair
Amanda
Bikerdude990
Torrin Paige
Gypsy Rose
Sameese
Soaring Eagle
David Justin
Blaise
Hair Nut

Aka
Eniko
Lori / Emerald
Jill T.
Long hair Yo
Dave D.
Gary C.
Roger H.

Glynn D.
And thank those long hair inspirations who have inspired me from the first time came on the internet in 2005!

Cindy Christian
Karen Marie of Stressless Tresses
Debra Jo Fondren
Petra Shlessenger
Dr George Michael
Susanne Kalb
Katrin-Long hair princess braid
Marianne Amazing hair
Kricket Crowe
Let the Journey continue!

JJJLONGHAIR
---