JJJLONGHAIR Photo Page
Bun Page
---


Wearing Protective BUN Styles
has Helped me Keep my Hair
Long and Healthy!

Learn how! Watch my VIDEOS!




April 2020 DOING UPDATES!

SEE SOME NEW THINGS POSTED!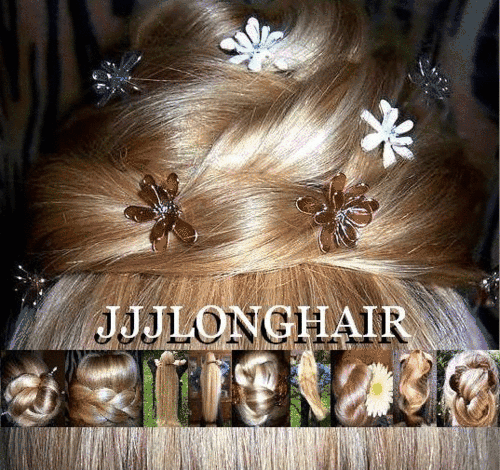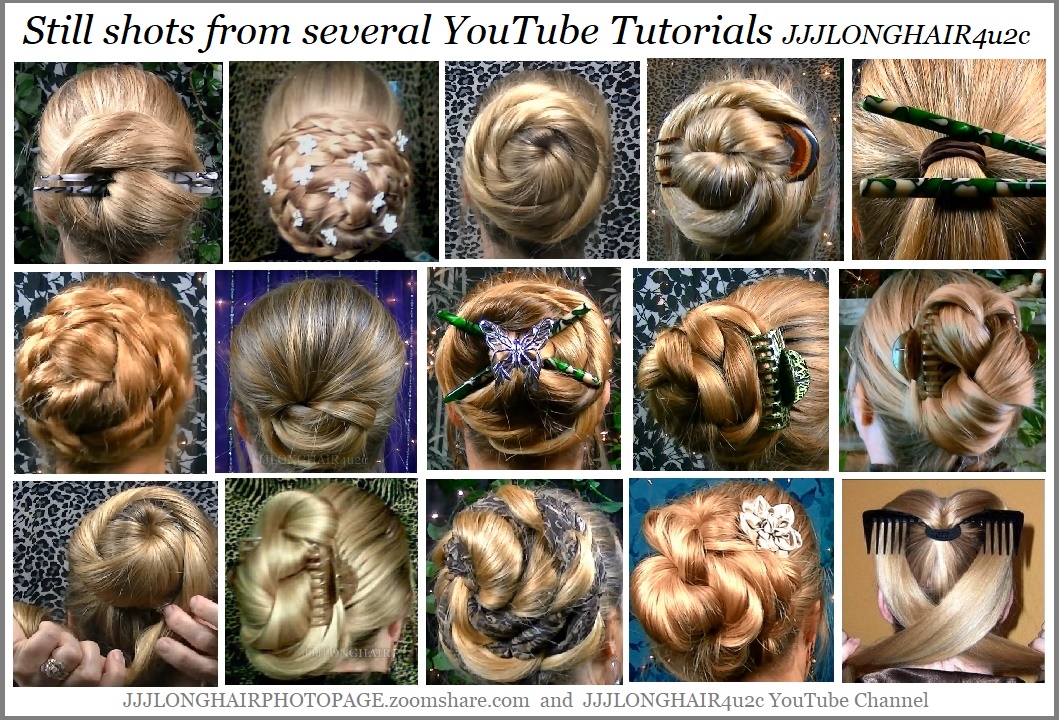 JJJ's   B U N   T U T O R I A L   P L A Y L I S T S

"The best way to learn how to do BUNS
is to watch a   V I D E O  TUTORIAL!" JJJ
CHECK IT OUT TODAY! This is how I learned..
Most styles can be done with hair much shorter than mine! Try!


Playlist 1
(Lower quality vid)
2007-2013
CLICK HERE

15 videos-Hair fingertip length to ankle


Playlist 2

2013-2020

HD QUALITY! CLICK HERE

32 videos-Hair ankle to past floor!
Please SUBSCRIBE to my Channel Show your love!!

MY CHANNEL with over 100 videos CLICK HERE


WEAR


BUNS


EVERY


DAY!


BUN MARATHON SLIDESHOW
NOW HERE ON MY BUN PAGE!
Over 140 Bun Photos from 2005 to 2013
Combined from 6 Slideshows into ONE
Bun Marathon! Got 10 min?



PLAY VIDEO RIGHT HERE


See this video, plus bun tutorials and more on my youtube channel click here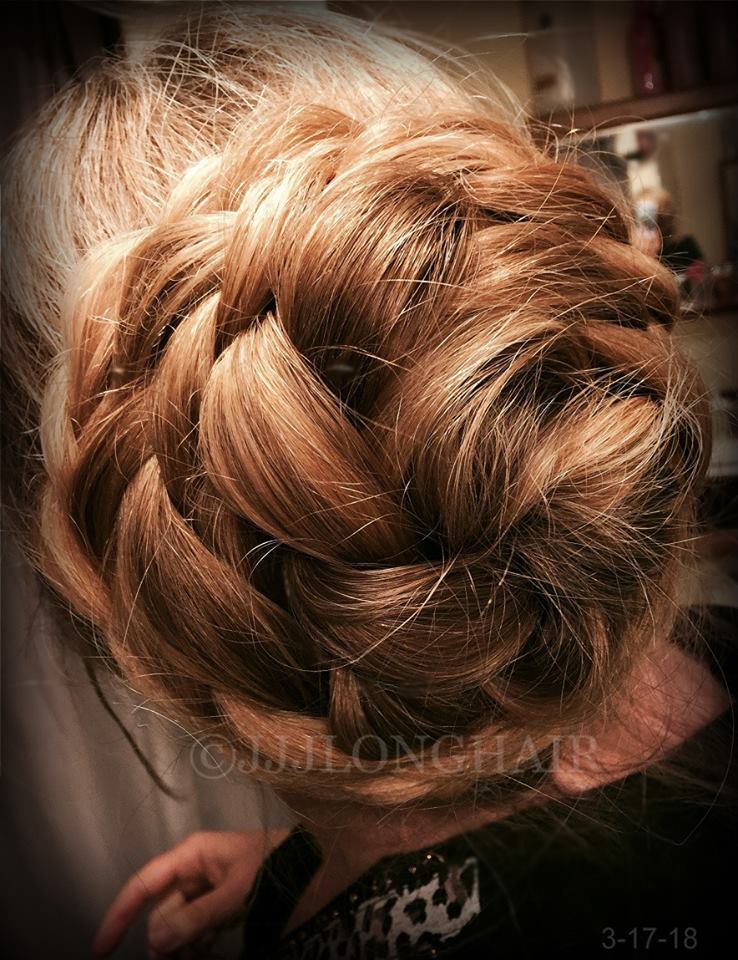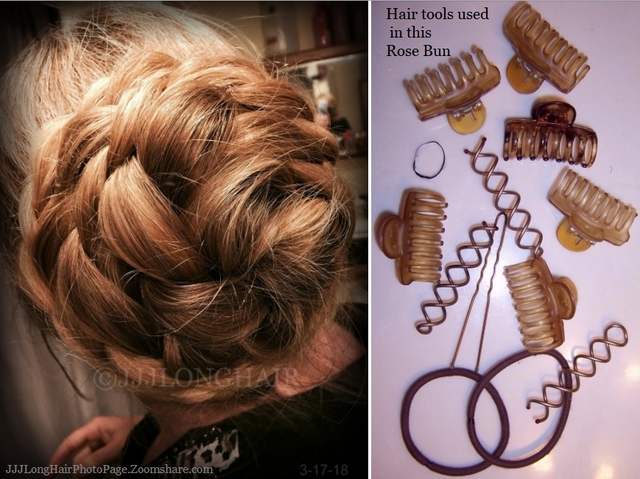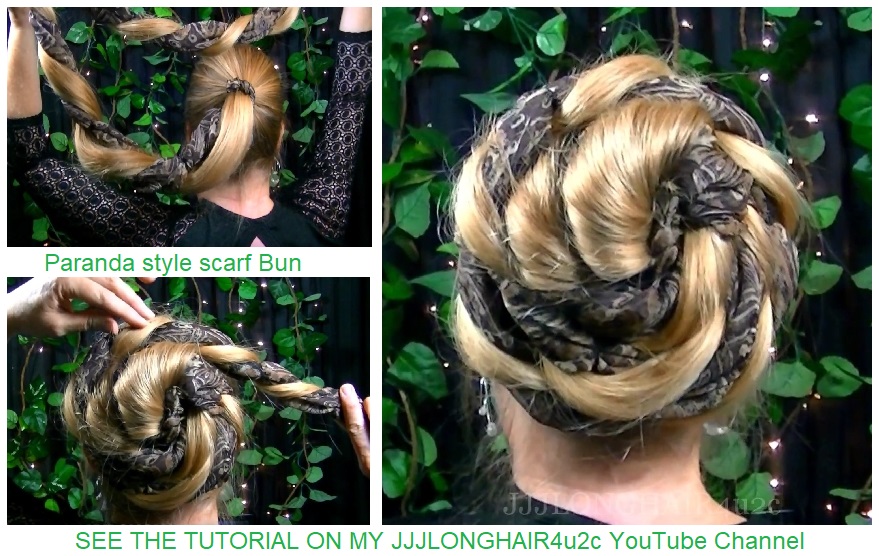 SEE THE VIDEO HERE

SEE a 2 stick Cinnamon Bun (pic below) tutorial HERE

LEARN THIS BUN  IT HELPS MAKE MANY OTHER BUNS!!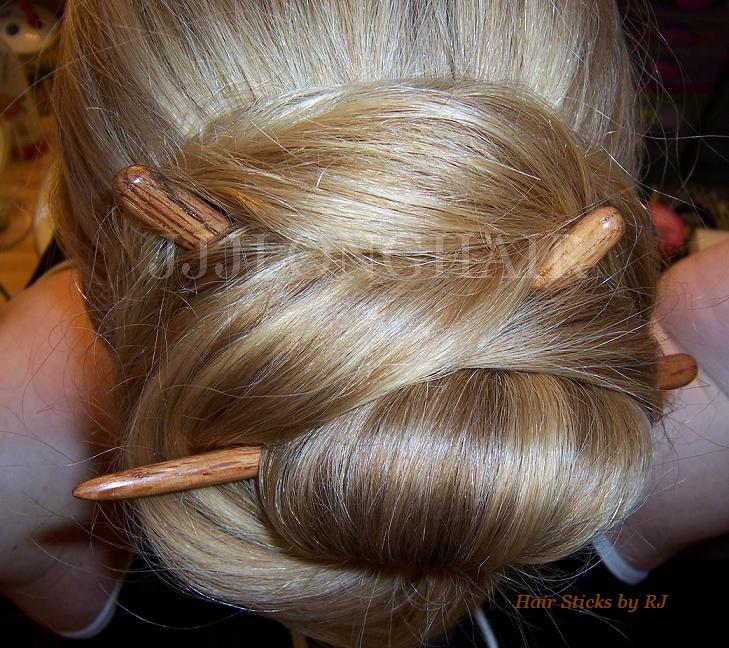 3 stick Cinnamon Bun with 80" Hair!
Handmade Oak Hairsticks made by Husband RJ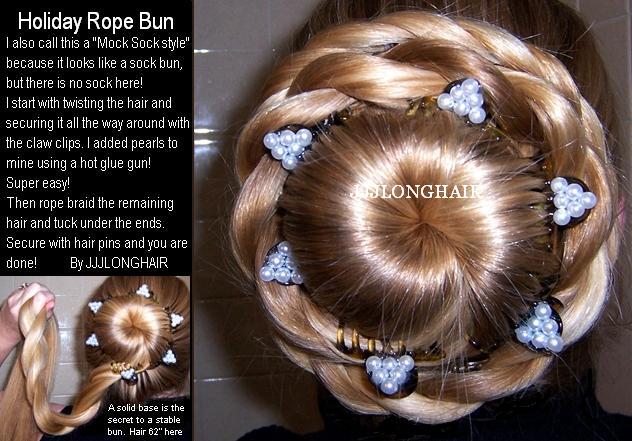 No tutorial on this one yet...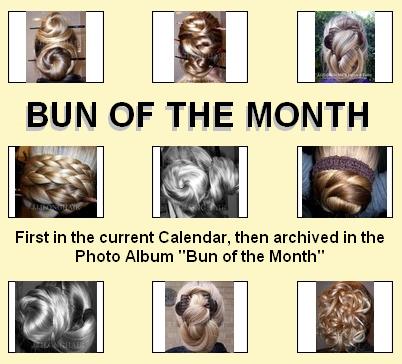 Discontinued bun of the month for now, but you can see 3 years of them


NEW

36 past bun of the month photos!


BUN OF THE MONTH ALBUM CLICK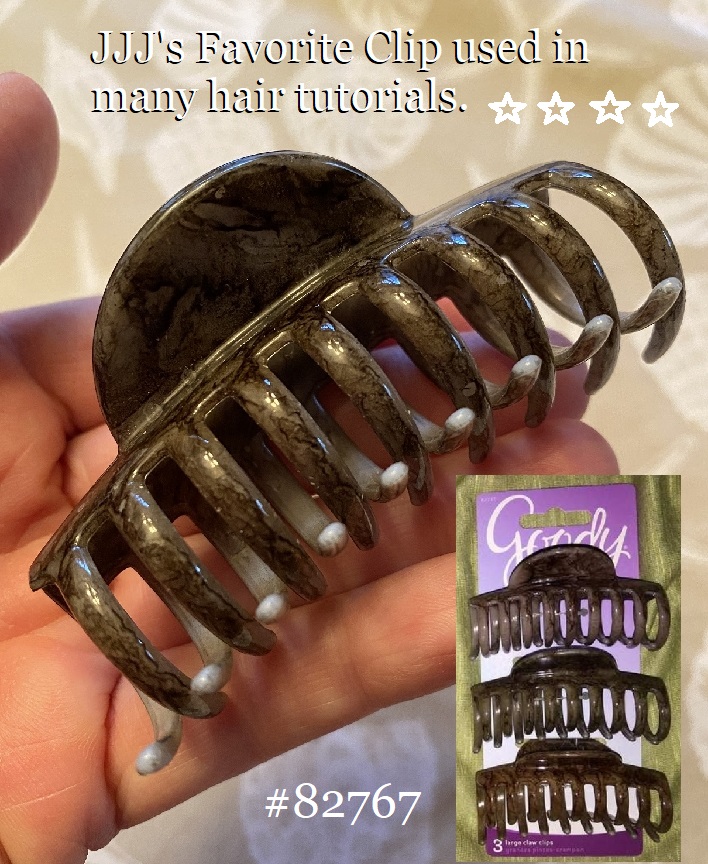 "Clips are a great way to learn buns"JJJ

It's how I started! I grew to LOVE them.
A good place to find these and other clips is SIMPLY HAIR ACCESSORIES
I cant find them in stores anymore. Been using these for at least 8 years.
🎨🌈I even started custom painting them!🎨 SEE HOW! CLICK HERE


All Bun video tutorials now on the new Bun Video Page!
This page will feature bun photos and photo directions.
📷

📷FIND THE ANSWER HERE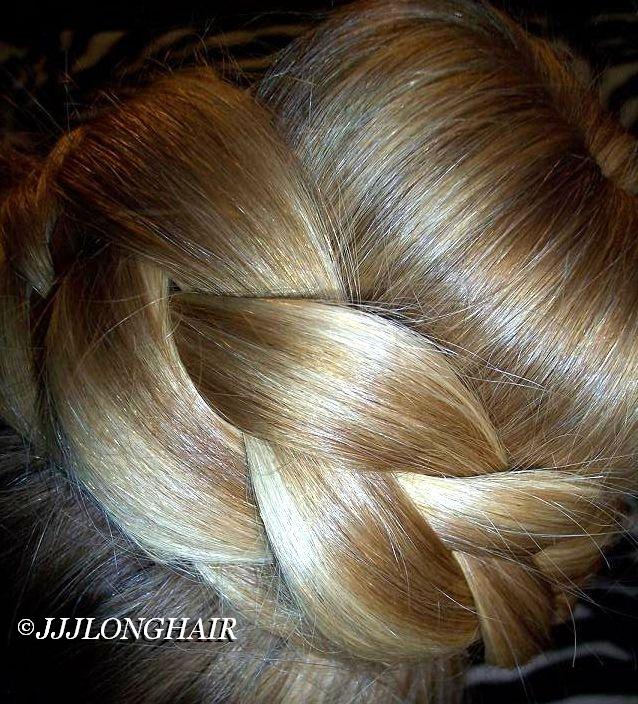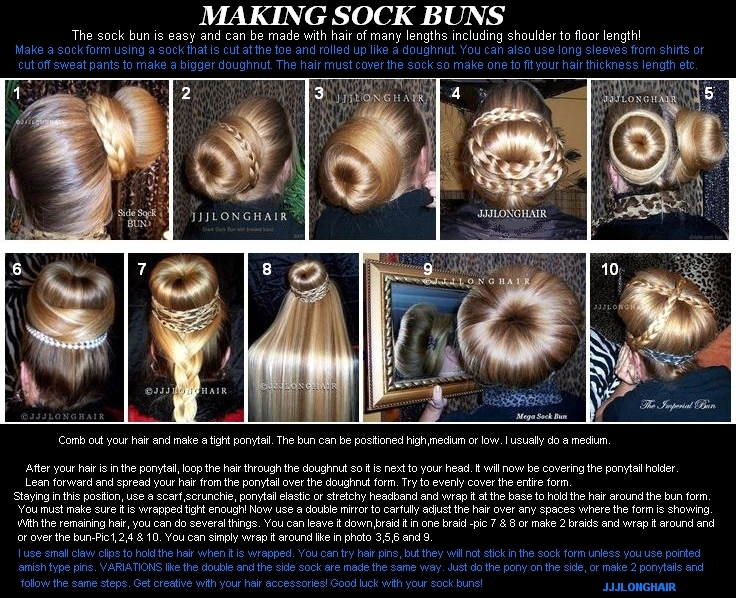 *Buns 4,9 and 10 have extra BIG donut forms!

 NEW   Bun Tutorial Photo Instruction Series!
"STEP by STEP" Photo's from my TUTORIALS!

NOW WITH A PAGE 2 in 2020! 30+ photos!

Adding more as I make them!

NOW BIGGER and BETTER PICTURES IN HD

See one you would like to try?


Video tutorial links included under each photo set!
NOW THIS HAS ITS OWN PAGE HERE



NEWand IMPROVED with more photos and details!
NOW with a page 2 Step by Step! TOOK MANY DAYS OF WORK DOING THESE
FOR YOU..A GOOD QUARANTINE PROJECT.

PRINT OR SHARE on your WEBSITE!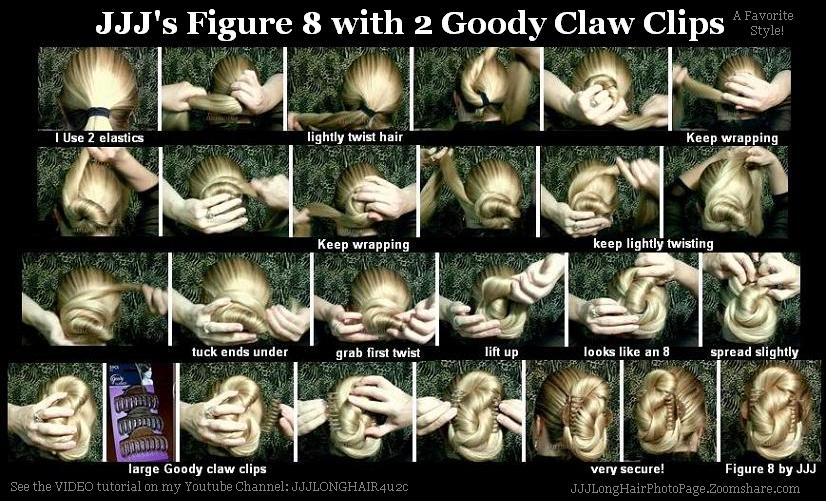 October 2012 FIGURE 8 BUN  VIDEO TUTORIAL Click Here Includes the INFINITY BUN too!


---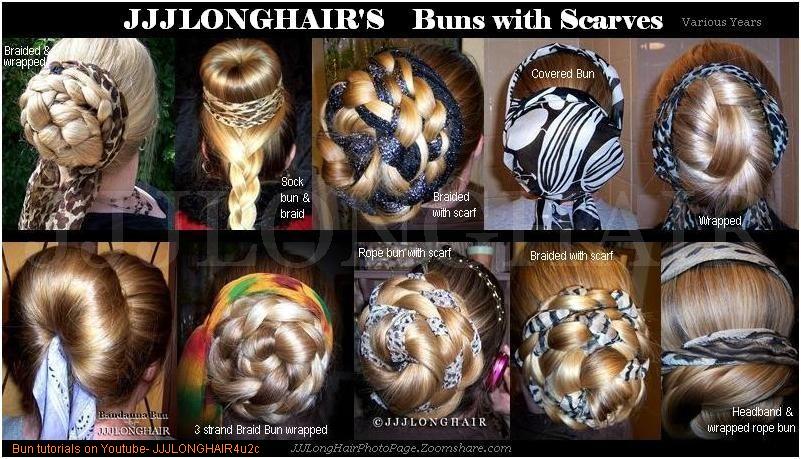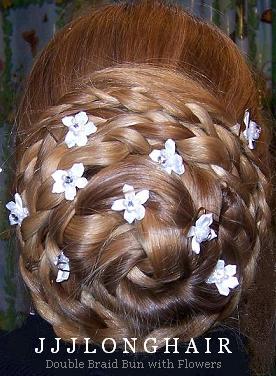 Created Spring 2011TUTORIAL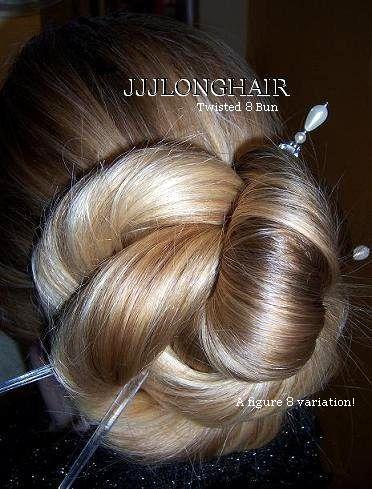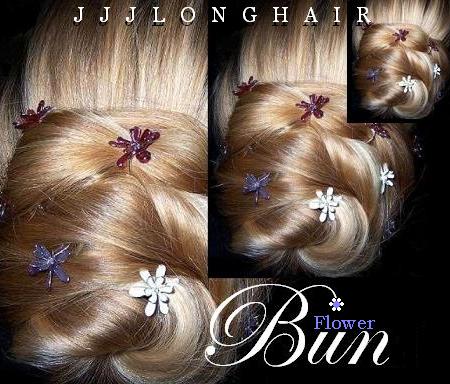 JJJ Pretzel Bun
2005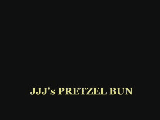 &

2015
10 years and 44" Longer!



I invented this bun in April 2005!
This Bun is WHY I started doing
Bun Tutorials on youtube!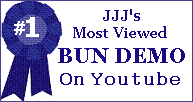 Over 147,596 views as of 4/27/20 on youtube!!!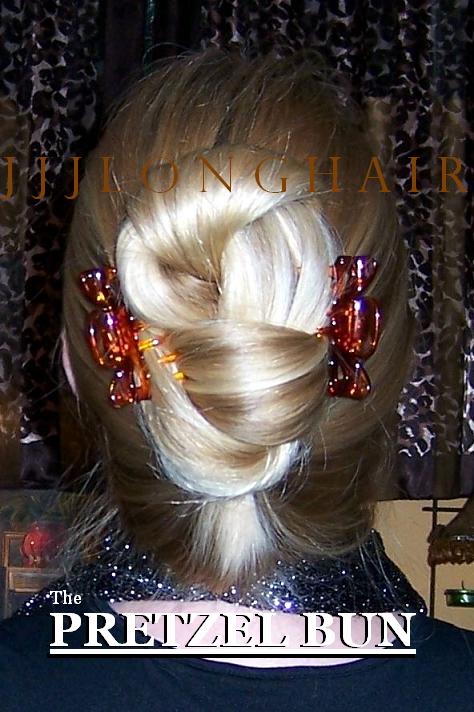 I now use BETTER clips! This photo was from 2005
and hair clips were not as good as today!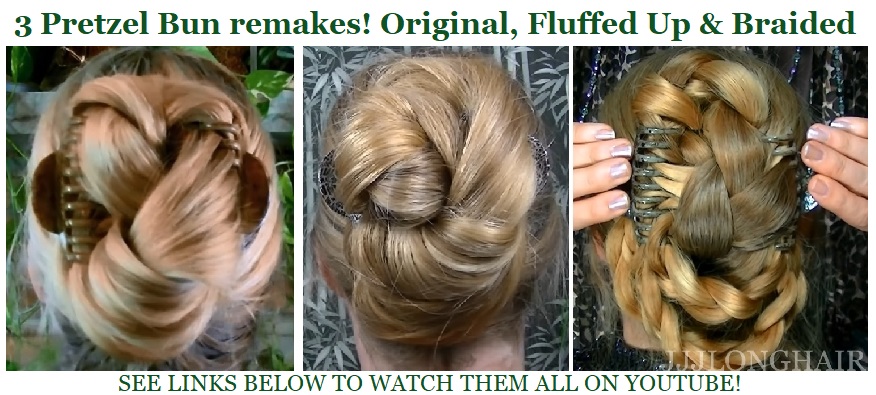 SEE THE HD Remake of the videos!


UPDATED PRETZEL BUN TUTORIAL (

2014

) in HD is HERE!
FLUFFED UP PRETZEL BUN (

MY FAVORITE 2018

) is HERE



THIS BUN IS WHY I JOINED YOUTUBE IN 2006!!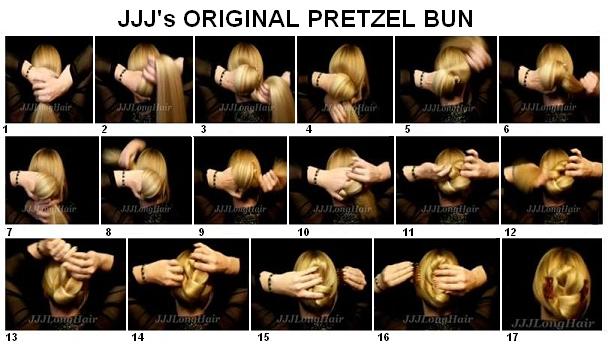 NEW Bigger better photos! added 4-1-10 (above) AND UPGRADED them again in 2015!(Below)
 "PRETZEL BUN" 
Written Directions
JJJs PRETZEL BUN- for  Very long hair
Gather hair in a ponytail at bottom of your neck(no band) hold all of your ponytail with your left hand, thumb towards neck.
keep holding hair, but now hold with your thumb and index finger. lift your other three fingers up.
with your 3 fingers up(still holding hair with thumb and index) grab the thick ponytail just under your hand(palm up), bring it up and loop it around your three fingers, now hold it with your 3 fingers. Your left hand should now be holding all of your hair.(you should have a loop of hair with a long tail hanging down)
Now take your right hand and put it on your left shoulder, elbow pointing out in front of you.Reach behind your neck and  grab the hair hanging down,grab as high as possible at the top,wrap the hair around the base of the ponytail clockwise, repeat this until you have about 6-8" of hair unwrapped. (never let go of your hair with your left hand)
your index and middle finger should be sticking thru the loop of hair. grab the little remaining tail with these fingers and pull it thru the loop,pull the hair thru and hold the bun up by this tail. Tuck the tail under the top of the bun to hide it, you now have released your left hand from holding the hair. cup your hand over the whole bun and get the clips. use 4-6 small 1" jaw clips,(depending on weight of your hair)  . or use 2- 3" larger clips, one on each side.
grab the edges of the bun.
(written directions from 2005! Confusing?? This is why I joined youtube and made tutorials!)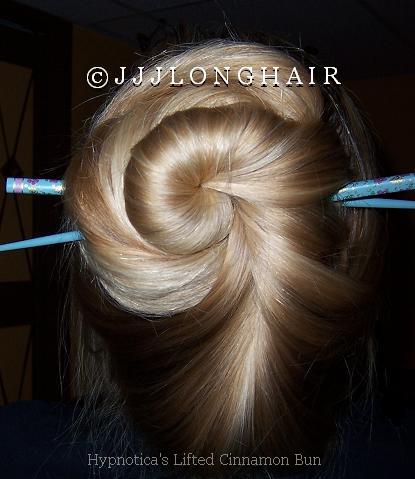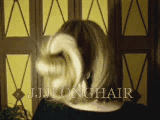 Lifted cinnamon bun animation...my version from 2006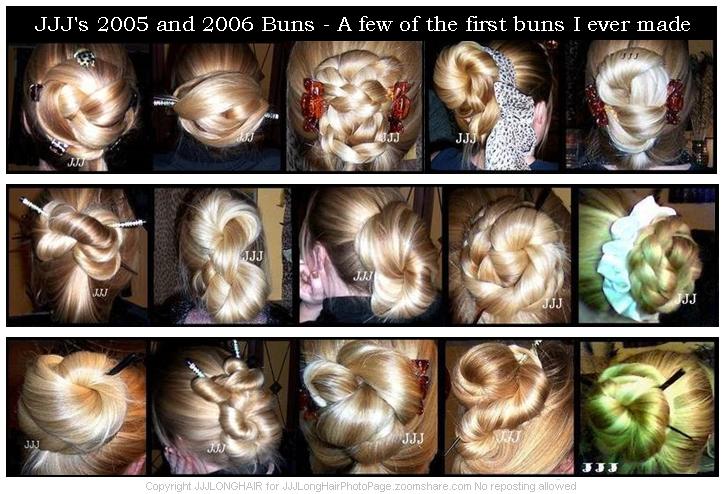 THANK YOU SO MUCH FOR VISITING!!! 

Visit my

For many tutorials!


counter added 4-14-06