JJJLONGHAIR Photo Page
All Video

ALL OF MY VIDEOS ON 1 PAGE!
"A quieter place than YouTube"
Simple instructions to watch videos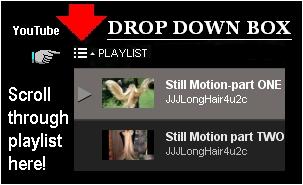 Drop Down Box found in

UPPER RIGHT CORNER
of each video player below.


JJJ's HAIR DOWN VIDEOS............ ...DROP DOWN BOX


JJJ's SLIDE SHOWS

 JJJ's ART OF HAIR

JJJ's CLASSIC VIDEO


 JJJ's NEWER HD BUN TUTORIALS

JJJ's PONYTAIL, BRAID and UNIQUE STYLES

 MY SECOND CHANNEL
Most of my videos here on this page!
Now you can't miss anything!


Please SUBSCRIBE to my channels
by going to YouTube!

JJJLONGHAIR4u2c
MY MAIN CHANNEL with over 110 videos



JJJLONGHAIR
My smaller original channel -mainly hair care
NO YOUTUBE CHANNEL?
YOU CAN CREATE ONE FREE! 
SIMPLY WATCH VIDEOS! (OR MAKE YOUR OWN)

CREATE PLAYLISTS, COMMENT AND SIBSCRIBE.
A BETTER WAY TO KEEP UP TO DATE!

I WILL POST NEW VIDEOS AS I MAKE THEM
IN THE ABOVE VIDEO PLAYERS.
I ALSO ANNOUNCE AS
"NEW VIDEO" IN THE CALENDAR
HERE ON THIS SITE
HOW TO MAKE A BASIC

 YOUTUBE CHANNEL!
A BIGINNERS GUIDE (VIDEO ON YOUTUBE)

~OR~

DETAILED YOUTUBE VIDEO ON HOW TO

CREATE A YOUTUBE CHANNEL
HAS MANY RESOURCES AND LINKS TO GET YOU STARTED.
( MOSTLY FOR PEOPLE WHO WANT TO CREATE AND SHARE CONTENT)
hERE I

Thank you so much for visiting!

JJJ